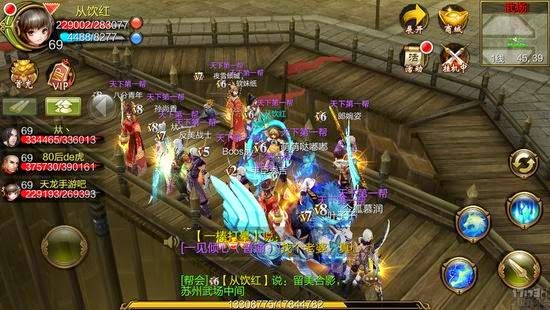 Recently, popularity of a new mobile game in China seems to prove some people's point of "the upcoming era of heavy mobile games". They think heavy games (hardcore games) will sooner or later dominate China's mobile games market, probably within 2014.

The new game "Tian Long Ba Bu 3D" (天龙八部3D) is developed by Changyou, a PC game giant affiliated to Sohu, one of the largest internet portals in China, and it's mobile version of a PC game sharing the same name.
At present, "Tian Long Ba Bu 3D" ranks 3rdin the Grossing list of App Store, and is more explosive in Chinese Android stores since its release on Oct. 29th. Changyou claimed that the 1stday gross income of the game reached 12.57 million yuan, making it a hot topic in Chinese mobile gaming industry.
Some people concluded that its popularity indicates that heavy games are becoming more and more acceptable to Chinese mobile game players, and PC game giants will have harvest time soon.
However, others think most players of MOBA games like "Tian Long Ba Bu 3D" are just old nostalgic players of the PC version, their temporary popularity doesn't mean any favor from ordinary mobile game players; some even doubt authenticity of claimed gross revenue.
Anyhow, backed by Sohu, Changyou put huge marketing resources on "Tian Long Ba Bu 3D", it's estimated that on the single day of Oct. 29th, the game was exposed to more than 200 million person-times, which is unimaginable for most mobile game companies.