A list of purchased Chinese mobile game companies was released by GPC today, along with their purchasers, purchase prices (left) and promised revenues (right) in 2015 and 2016.

The article from GPC says there are more than 15,000 mobile game companies in China at present, but success rate of mobile games has dropped to as low as 0.1%.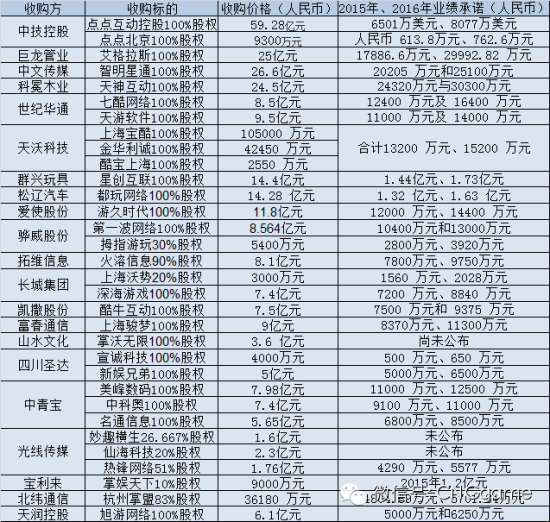 However, the future annual revenues promised by the purchased companies were usually exaggerated, which, according to the list, are mostly over 50 million yuan (about 8 million dollars) and some are even around 300 million yuan (about 48 million dollars), so they are unlikely to be achieved.
Actually some companies have reconsidered their plans of acquiring mobile game companies recently. For example, Deli abandoned its plan of buying Wushen Shiji in November, and Julong, a pipe company, announced on Dec 17th it had reduced valuation of EGLS from 3 billion yuan (about 482 million dollars) to 2.5 billion yuan (about 402 mil dollars).