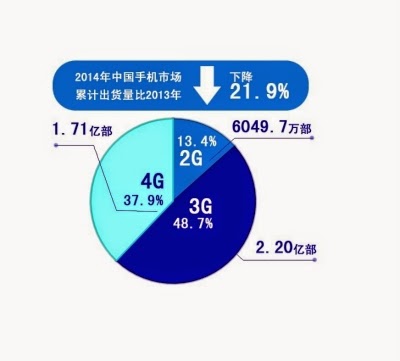 China Academy of Telecommunication Research(CATR) released some data on mobile phones in China recently.
According to the data, a total of 452 million mobile phones were delivered in 2014, decreased by 21.9% over 2013, including 60.497 million 2G phones, 220 million 3G phones and 171 million 4G phones, accounting for 13.4%, 48.7% and 37.9% respectively of the total number.

389 million smart phones were delivered, fell 8.2%, covering 86% of the whole market, including 349 million Android phones, decreased 12.4% year-on-year.
Analysis says the fall of delivery of mobile phones is attributable to ownership as high as 95%.
Till the end of November 2014, Chinese mobile users had numbered 1.28 billion, and Ministry of Industry and Information Technology predicts 4G mobile users will continue to rise to 250 million in 2015, resulting in a higher proportion of 4G phones based on 37.9%.