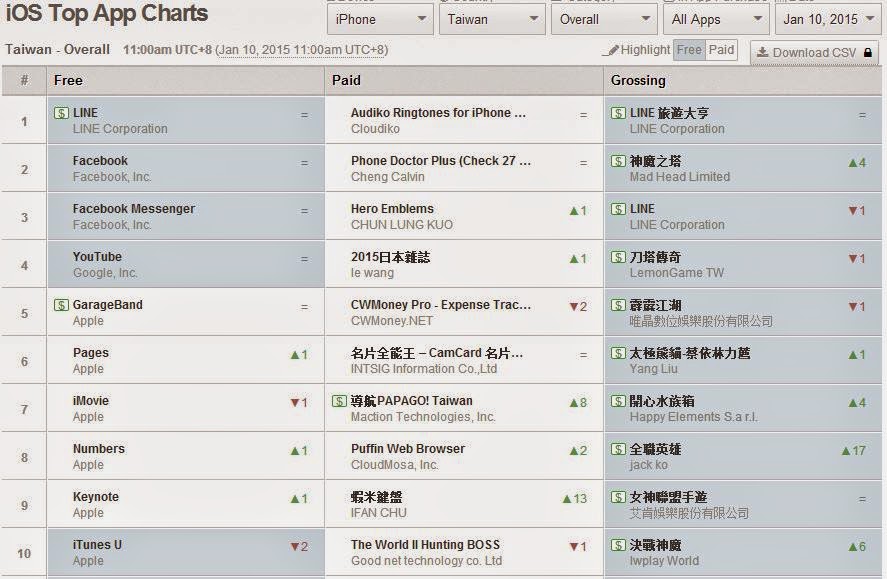 App Store Taiwan, Data from AppAnnie
According to official data from Line in 2013, Japanese message app Line covered over 17 million people of the 23 million total population in Taiwan, and today, judging from local Grossing list of App Store, Line still dominates the market.
Line's latest chess mobile game "LINE Get Rich (LINE全民大富翁)" ranks 1st in grossing lists of both App Store and Google Play since December, and other Line games like LINE COOKIE RUN and LINE Rangers are also among the most popular mobile games in Taiwan.
It is reported that TV ad makes great contribution to the popularity of the game in Taiwan, just like TV ads often do to mobile games in Japan, and due to historical reasons, Taiwanese do have a preference for Japanese culture, which is also an important reason for prevailing of Japanese games in Taiwan.
Meanwhile, some mobile game companies from mainland China regard Taiwan as the 1st step of entering international markets.
According to a report released on the 1st Cross-Straits Game Industry Summit (CSGIS) held in Shanghai on May 22nd2014, about 80% of popular mobile games in Taiwan were from mainland China, yet Chinese game hegemony Tencent seems to have no position in this market, whose mobile games are nowhere to find in the three lists of App Store in Taiwan.
Tencent has released the mainland China's version of "LINE Get Rich" – 天天富翁, ranking 22nd in here's Grossing list of App Store.