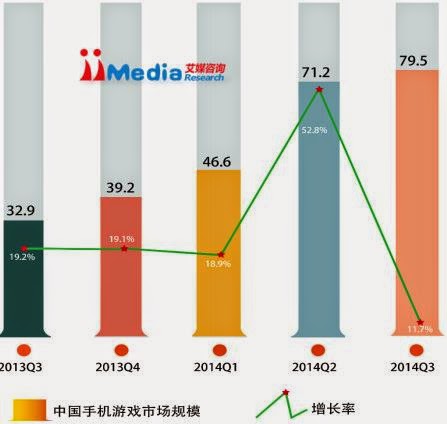 Growth of Chinese mobile games market
Chinese market research agency iiMedia Research recently released a report on Chinese mobile games market in Q3 2014, and concluded several major reasons for mobile gamers to give up a game.
38.6% of the surveyed gamers give up a mobile game for "playing it for too long a period of time and thus losing interest", 28.7% for too hard the operating mode of a game is, 26.7% for the need for payment or too high payment and 22.8% for dull content of a game.

Interestingly, 20.8% give up because they just "don't want to play mobile games any more". It's hard to say whether these 20.8% are disappointed at the quality of mobile games in China or not, but I believe a big number of them are.
Other meaningful figures include: 
19.8% of the respondents start up games for several times every day, 40.6% start up for 1 to 2 times every day, and 11.9% start up a game for less than 1 time every week.
In Q3 2014, 57.5% of the mobile gamers played mobile games, 20.1% of them played only single-player mobile games, 20.3% only played online mobile games, and 17.1% played both types.
50.2% played so-called "casual puzzle" games during Q3, 34.8% played parkour games and 34.5% played chess and card games.
50.3% installed 1-2 mobile games during Q3, 30.4% installed 3-5, and 7.7% didn't install any new mobile games.
97.9% gamers had never paid for mobile games, only 2.1% once paid for mobile games. And 57.7% of the paying gamers paid less than 20 RMB at average each month, 34.6% paid 10-20 yuan each month, 23.1% paid less than 10 yuan each month, and 19.2% of the paying gamers never paid for any game during Q3.
63.3% of the mobile gamers played for less than 30 minutes every day in Q3, 20.8% played for 30 minutes to 1 hour, and 15.9% played for more than an hour.
The report also indicates that Chinese mobile games market grew by 52.8% in Q2 2014, but this figure was only 11.7% in Q3, lower than the previous four quarters, so was the increase of mobile gamers, only 3.1% in Q3, lower than the previous three quarters (from 11% to 7.4%).