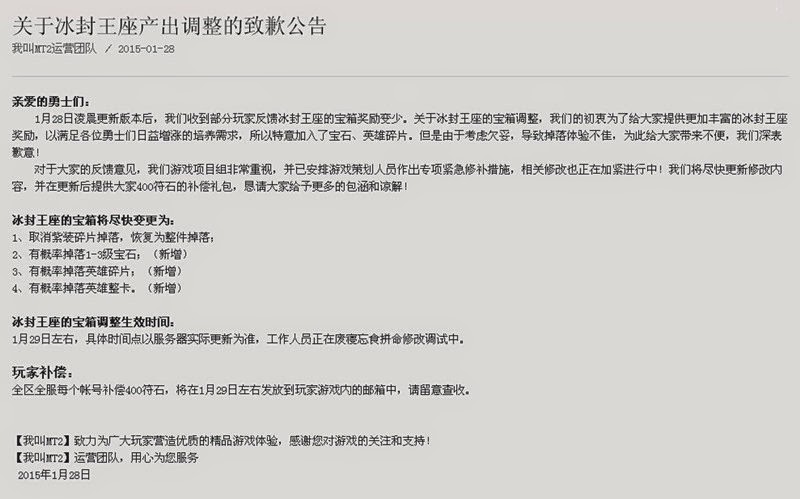 Tencent's apologetic statement
A recent change in update of prevailing game "I am MT 2" (我叫MT2) fuels wide protests, another example of "rude operation of game" as said by gamers in China (see gamers' comments on the possibility of Supercell's authorizing a Chinese company to operate Clash of Clans).

Developed by Locojoy and exclusively released on WeChat, "I am MT 2" has been continuing the brilliant performance of its predecessor since its launch on Dec 16th and remains in top three of the grossing list of App Store.
"I am MT 2" was accused by many for plagiarizing gameplay of another hot game – "Dot Arena" (刀塔传奇) when it was released, and this time, Tencent is impatient enough to please "whale players" and dissatisfy ordinary gamers.
In face of fierce protests, Tencent made some concessions, but failed to satisfy the gamers, furthermore, "whale players" were also angry this time for less gains in the game. Countless gamers threatened to claim for refund and gave one-star rating in App Store.
Finally, Tencent made an apology and promised to recover all settings before the update and make compensates.
"Plants vs Zombies 2" also generated discontent for increasing difficulty and was especially difficult in China.
PopCap's head of publishing in China Zhou Xin explained in TechCrunch's 2013 Shanghai Summit: "Chinese gamers need to be pushed to pay for mobile games."