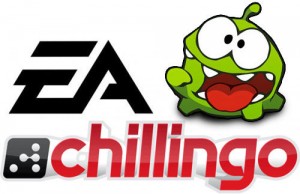 On a news conference on March 17th, Chillingo announced the formal opening of its new office in Shanghai, which aims to look for quality Chinese games for global market and release mobile games in China.
Chillingo emphasized that it will focus on "indie developers" in China but also said they haven't defined this term. "We will cooperate with indie developers and always put gamers first for success," said the announcer. Maybe Chillingo knows chaotic Chinese mobile games market well, and thinks "indie developers" might be relatively reliable.
Chillingo introduced that its Chinese game development partners has accounted for 5% of all its partners, yet the proportion of revenues from China is much higher.
When asked "why being so positive towards Chinese market while some other overseas companies escaped", Chillingo's global general manager Ed Rumley mentioned success of "Iron Force" in global market, which was developed by a Chinese company and released by Chillingo. But how will Chillingo deal with the messy Chinese market? The answer is unknown.