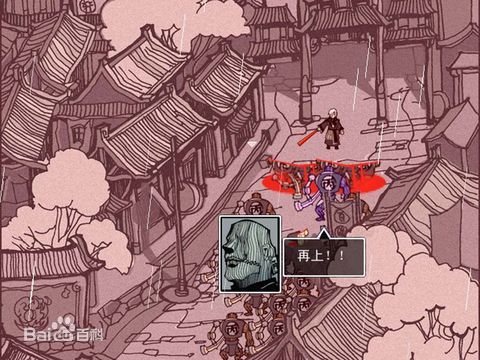 "Rain Blood Chronicles" has been enjoying high reputation among China's indie game players since its first release in 2008, it is especially known for being firstly made by a single person – Liang Qiwei and winning "heated responses" in the west. However, since its mobile version "Dark Blade"(影之刃) was released by NetEase in September, it has witnessed more and more criticisms, many of which are from Rain Blood Chronicles's loyal fans.

Many fans said that they were attracted by Rain Blood Chronicles's special art style and dialogues, which are not usually deemed as core competitiveness of games. The art style of this game features repetition of traditional Chinese architectures in an exaggerated form, and its dialogues are filled with kill, danger and grimness, deeply inspired by novels of Gu Long, a famous Chinese Kung Fu (more precisely "Wuxia") novelist equally famous as Jin Yong.
Different from those mobile games born out of Jin Yong's novels, "Rain Blood Chronicles" is an original IP with original content. This makes the game unique in China's game market, where originality is always a rare thing.
Liang Qiwei and his fellows are very good at creating atmosphere in the series of "Rain Blood Chronicles", through endless rain, bleak buildings, intense music and cruel dialogues. As a result, many Chinese teenagers with a swordsman dream found it an excellent place for adventure with dazzling fencing. Some of them spend dozens RMB to buy design drawings of the game when they've grown up, just for reminiscence, and some are also willing to buy various props in the newly released mobile version, regardless whether it is worth or not.
Actually, Liang created his world of "Rain Blood Chronicles" based on his Wuxia fantasies in adolescence. Under the influence of Gu Long's novels, He wrote several Wuxia novels in his notebooks during middle school, according to his Weibo account.
In the process of turning Wuxia world in Chinese novels into a virtual one on computer, architectural student Liang Qiwei also successfully attracted attention of some overseas gamers. Given that China is a weak country in cultural exports, which "has Kung Fu and panda but no 'Kung Fu Panda'" (words of Jackie Chan), fresh experience caused by Liang's works in the west is no big surprise.
However, Rain Blood Chronicles's monotony in art, plot, characters and gameplay have determined its minority position in China and the world. It is better than most indie games here, and as it represents a teenager's dream, it does not go with the stream, but we should be cautious in evaluating its real strength.
(To be continued…)