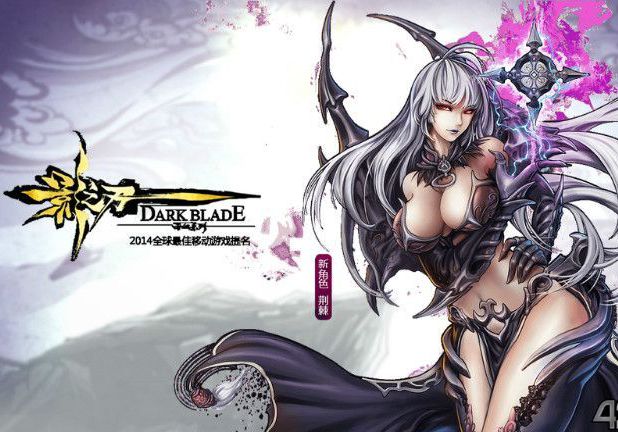 Rain Blood Chronicles' creator Liang Qiwei posted a long article – "Make money in a pure way" in February, narrating his thoughts on Rain Blood Chronicles' mobile derivative "Dark Blade". Of course, Liang's pure incentive in making Rain Blood Chronicles was indubitable, but as "Dark Blade" was bought out by NetEase from the beginning, it wouldn't be Liang's decision to be pure or not. And no matter how tolerant NetEase's CEO Ding Lei is, as the first mobile game of S-Game and the derivative of Rain Blood Chronicles, "Dark Blade" has to make all efforts to prove its ability of monetization.
Liang affirmed in that article that they had been sticking with their own style instead of bowing to the Chinese market, but name of "Dark Blade"(影之刃) has reveals that's not true. Compared to "Rain Blood Chronicles" – a totally original name indicating content of the game, "Dark Blade" caters to the "blade" and "sword" zest in Chinese mobile game market.
In fact, inheriting images, music and actions from Rain Blood Chronicles, "Dark Blade" is impressive at first glance, but subsequent updates and poor operation of the game have broken the hearts of a large percentage of Rain Blood Chronicles' loyal fans.
"NetEase and S-Game seem to be indifferent to the game, bugs are left unresolved for months, and customer service pay no attention to gamers' feedback. The updates are more and more boring…", "S-Game is now obviously putting money above everything. They find it hard to attract new gamers, so they keep adding meaningless updates, to force loyal gamers to make payments again and again," said fans of Rain Blood Chronicles on the internet.
Since its first release in September, Dark Blade's rankings in App Store has been dropping constantly, from high-ranking in the beginning to out of top 200 at present. The comment zone is now filled with negative judgments, and 1529 people gave one-star among 4849 ratings.
On the surface, it's a problem of attitude, but after the 1st edition "Town of Death", Rain Blood Chronicles has been criticized for being thinner on content in its 2nd and 3rd editions. As the mobile version, "Dark Blade" seems to face more serious problem in respect of content. That explains why one third of S-Game's team are busy with "building architecture and configuration of world view", according to Liang Qiwei's post.
Liang revealed that "Dark Blade" will also be released overseas this year and some top publishers have been confirmed as partners in some countries, but he refused to provide any details about this.
"We will sum up the experiences in China and present a Chinese game with style and taste to the world," wrote Liang. Does that mean the Chinese version has less style or taste? Or will Liang try to emphasize "Chinese style" in the game to appeal to western gamers? Anyhow, just like most other Chinese game companies, S-Game has taken China as a test ground, where quality and service could be relatively poor and monetization could be pushed much harder.
Anyhow, all these will become history and Liang has proved strength of his IP of "Rain Blood Chronicles" – "Dark Blade" made more money in the last four months of 2014 (the first four months after debut) than "Rain Blood Chronicles" did in the past three years.
For the next step, Liang has admitted that they are now developing another major work, of which the budget is 6 to 7 times that of "Dark Blade".