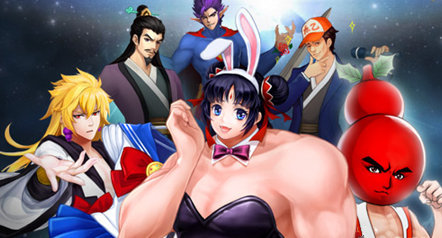 Linekong's new cartoon-based mobile game "One Hundred Thousand Bad Jokes" (十万个冷笑话, released in March) is widely criticized for being a clone ("skin-changing") of its another game – "Sword of God" (神之刃), but when Linekong said: "Our attitude towards IP (intellectual property) is not 'fast skin changing', which makes quick money but harms value of IP, instead, we expand its ecological system by an 'ecological' mode of operation," you have to admit that Linekong goes further than its counterparts in China.
Linekong's "progress" can be seen in adopting characters from the cartoon of the IP, embedding plots of the cartoon into the game, and ask creators of the cartoon to write dialogues for the game. All these were neglected by most other IP-based games in China, like "Gone with the Bullets".
Mobile game "One Hundred Thousand Bad Jokes" is said to have brought large amount of revenues to Linekong, but the premise is that Linekong has put huge marketing expenses for the game, including the RMB 60 million during Q1. This doesn't include its payment for the cartoon IP.
Compared to low cost for the first episodes of the cartoon by the IP owners, spending on the mobile game with the same name by Linekong is huge. The enormous difference in spending can be deemed as a kind of compensation for lack of creativity, indicating that the Chinese mobile game market is now sort of a place of money competition.
Small game companies cannot afford the high prices of IPs, they may have creative ideas, but these ideas alone cannot compete with strong marketing campaigns and IP's influence from large companies. Meanwhile, having spent big money on IPs, large companies are cautious in making respective games, and thus tend to adopt proven gameplay.
Game companies in China like Linekong are continuing to buy more IPs, but what's the future of such mode of heavy reliance on IP and lack of creative gameplay?
In a recent interview, Linekong's CEO Wang Feng said he would make fast moving consumer goods if he doesn't make games, and he is now doing "something special" apart from game. In many ways, Linekong is more like a "speculative company" than a game company, just like Snda.