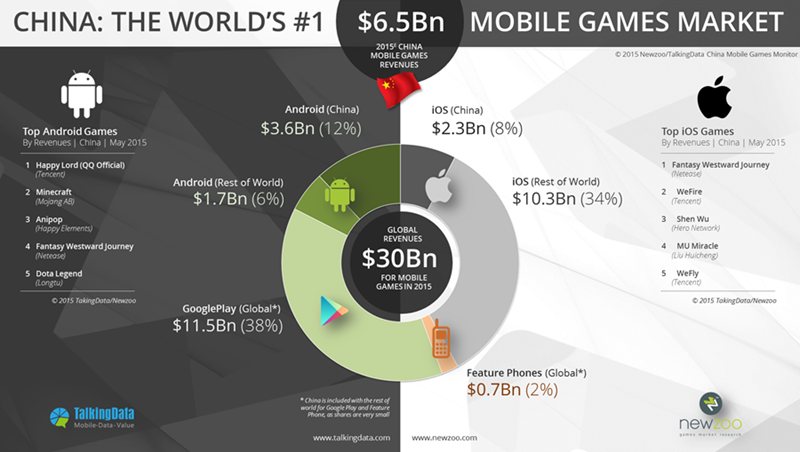 Dutch market analysis company Newzoo and its Chinese counterpart Talkingdata recently released a report on Chinese mobile games market together. Most figures and facts in the report seem normal and predictable, indicated by news and editorials from CMGM, but we still find some content as follows that might be more or less inspiring.
China's mobile games market will reach $6.5 billion in revenues this year, more than one fifth of the $30.1 billion generated worldwide. This positions China as the world's biggest market for smartphone and tablet games, ahead of the US with an anticipated $6.0 billion in revenues this year.
Local Android app stores in China alone will generate revenues of $3.6 billion in 2015, or 12% of the global mobile games market. Globally, iOS will account for 42% of worldwide revenues, or $12.5Bn, of which $2.3Bn will come from China.
With 257 million active devices and a 32% coverage rate in China in May 2015, Apple is China's top brand in devices used. Samsung and Xiaiomi, China's second and third brands, both have less than half of Apple's usage numbers.The iPhone 6 surpassed the iPhone 5s just this May as the most used iOS device in China.
Tencent, the world's number one company by game revenues, is the unchallenged top grossing publisher in China on both iOS and Android. In May 2015, Tencent published 29 of the top 100 grossing Android games and 59 of the top 100 grossing iOS games. Additionally, Tencent's Myapp surpassed 360 Mobile Assistant as the number one app store by installs in China in May 2015, with its store installed on 26% of Android devices and used by close to 20% of all Android users in that month.
NetEase generated the second highest revenues in iOS in May 2015, driven by the mobile version of its blockbuster RPG Meng Huan Xi You (Fantasy Westward Journey); Blizzard jumped five spots to become the ninth grossing iOS publisher while Supercell has held the number five position for the last few months. As the popularity of Minecraft has exploded this year in China, Mojang is the most successful Western company that publishes directly into the Android app stores.