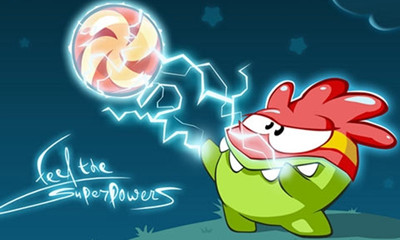 ZeptoLab® launches the latest installment of its world-famous, family-friendly franchise: Cut the Rope: Magic, now available on the App Store, Google Play and Amazon Underground.
Featuring ZeptoLab's iconic little monster Om Nom in an all-new journey through a magical spellbook come to life, Cut the Rope: Magic is ZeptoLab's most dynamic and beautifully-imagined game yet, with new challenges for current fans and new players alike. Coming just before the end of the year, the launch continues ZeptoLab's ongoing tradition of releasing a new game or major update as a holiday gift to fans.
An evil spider wizard – Om Nom's ultimate nemesis! – has stolen all of his delicious candy! Join the lovable little monster as he chases the wizard into a magical spellbook come to life. To help beat the wizard's tricks and traps and reclaim the candy he so craves, Om Nom has a new trick of his own: the ability to shapeshift into five different forms which help him navigate puzzles in brand new ways. With the new transformation feature and more than 100 magic-themed levels, including challenging boss levels, across a richly-imagined, colorful world, Cut the Rope: Magic is a fresh take on Cut the Rope's classic physics-puzzle gameplay.
"The Cut the Rope series is now more than five years old – almost ancient in mobile gaming years," said Misha Lyalin, ZeptoLab CEO. "When we started in 2010, we had no idea we'd have such a long story and that Om Nom would become so popular across the world. Today, a little over five years after the first game launched, we continue to bring new ideas to the market to create something that is truly new and magical, like Cut the Rope: Magic."
"What 'magical' means to us is something that stands out from the routine, creating emotions and color, changing familiar things into new and unexpected surprises," said Semyon Voinov, ZeptoLab Creative Director. "In that sense, our new game is 100 percent 'magical'! While Cut the Rope: Magic still has familiar things that millions of fans love about the series, there's a new 'transforming' twist that makes our newest game a unique and charming experience."
For more information about ZeptoLab and the "Cut the Rope" franchise, please:
 —————————————————————————
Interviews and background information for press
Should you have any questions, just let us know! We're also open to provide interviews with executive staff from Zeptolab. Please contact us at: [email protected]
About ZeptoLab
ZeptoLab, a global gaming company dedicated to the science of fun, is best known for developing the award-winning, hit franchise Cut the Rope®, which includes Cut the Rope, Cut the Rope: Experiments and Cut the Rope: Time Travel, available across platforms and devices, and Cut the Rope 2. Cut the Rope games have been downloaded more than 750 million times by users around the world since the game's debut in October 2010. The company has also released Pudding Monsters™ and King of Thieves™, available on Android and iOS platforms. For more information, please visit www.zeptolab.com.
ZeptoLab, Cut the Rope, Om Nom, Nommies and Feed with Candy are the trademarks of ZeptoLab UK Limited. TM/© 2014 ZeptoLab UK Limited.
Press and Media Contact China, Japan, Singapore 
International Business Media Pte. Ltd.
Press Department
10 Ubi Crecent, #06-18 Ubi Techpark Lobby B
Singapore 408564
Mail: [email protected]