According to a recent report on China Securities Journal in 2020, overseas asset management giants including Blackrock and Man Group didn't perform as good as China's public equities or private equities for its local funds.
At present, the top global foreign investment giants have laid out the Chinese market to varying degrees. How are they doing in China? Who is doing better in the Chinese stock market, foreign capital management giants or Chinese local investment masters?
We obtained performance data of foreign-funded public funds and private equity funds from Chenxing and some private equity fund holders to find out the answer.
Public fund PK: China domestic equities win
Chenxing includes 60 Greater China equity funds registered in the United States. The investment range of these funds includes China's A shares, Hong Kong shares, and Taiwan stocks. Looking at 2019 alone, there is a gap between the top students in these 60 funds and the top students in domestic ordinary equity funds.
More than 70% of the assets from the Greater China funds were invested in stocks, and more than 75% of the fund's stock assets were invested in A-shares, Hong Kong stocks, and Chinese Taiwan market stocks. In view of the large overlap between the investment scope of such funds and domestic ordinary equity funds, the performance of these two funds can to a certain extent show the level of foreign and domestic investment in the Chinese market.
As of December 30, 2019, the maximum return of domestic ordinary equity funds in 2019 was 105.86%, which was obtained by Guangfa Duoyuan Xinxing. The highest return of the Greater China Equity Fund issued by the United States in the same period was 42.48%, which was obtained by K-shares of BlackRock China A-Share Opportunity Fund. If it is placed in a domestic stock fund, it will be ranked 196 (Wind's data included a total of 414).
The 25th Greater China Equity Fund issued by the United States recorded a 31.23% return in 2019, and the 25th largest domestic equity fund recorded a 71.70% return in 2019.
It is worth noting that the "China A Opportunites Fund" under BlackRock, the champion fund, was newly established at the end of 2018. It was only established for more than a year and the scale is relatively small, only 14.7 million US dollars.
Fidelity Investment's fund "Fidelity Advisor China Region Fund Class Z" (investment advisory share) recorded revenue of 35.11% in 2019, which is the largest of the top 25 US Greater China equity funds with a size of US $ 1.2 billion. The fund was established in 1995 and has accumulated 734.28% since its establishment.
A major reason why the Greater China Equity Fund issued by the United States in 2019 is inferior to domestic ordinary equity funds is that in 2019 Hong Kong stocks underperformed A shares significantly, and funds with more Hong Kong stock positions in their positions were affected.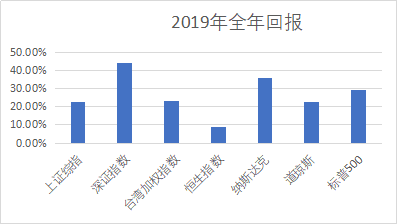 Source: Wind, as of December 30, 2019 
Private Equity Fund PK: Foreign Products Fail Again
Partial control retracement is outstanding
As of now, 23 foreign-funded institutions have filed private equity managers with the Fund Industry Association, of which 21 have issued private equity products in China. From the perspective of investment scope and scope of fundraising, these foreign private placements are basically on the same level of competition as domestic private placements.
We obtained performance data of four products from some holders. On the whole, the performance of foreign private equity is not amazing, but the ability of some institutions to control the retreat is quite okay.
For example, as of mid-December 2019, a UBS-owned private equity fund recorded a 26.48% return in 2019. According to the wealth data on the grid, as of November 30, 2019, there were as many as 21 private equity funds with a return of more than 30% in the year.
It is worth noting that this product has effective retracement control in 2018-it only lost 8.56% in 2018, which is a smaller loss compared to domestic head stock funds.
The giant BlackRock, which manages nearly $ 7 trillion, has issued multiple private equity products in China, one of which is an index-enhanced private equity fund. This fund was established on September 6, 2018. It has recorded a return of 33.83% from the beginning of 2019 to mid-December. The annualized return is slightly better than CSI 300, but the volatility is less than CSI 300.
Compared with the quantitative stock long strategy managed by domestic private equity funds, the wealth data on the grid shows that as of the end of November 2019, the highest return of the stock quantitative long strategy private equity fund reached 53.23%. BlackRock's index-enhanced product revenue is also not eye-catching.
As a further example, Man Group issued two quantitative products in China, one of which recorded a revenue of 10.34% in 2018. However, the performance of this fund is average in 2019, with a return of -2.64%.
As the originator of the CTA strategy, a CTA product in Yuansheng's domestic private equity products recorded a revenue of -0.30% in 2018 and a 5.02% revenue in 2019. However, the wealth data on the grid shows that as of November 30, 2019, the highest return on domestic managed futures strategy products had reached 68.39%.
In addition to the ability to control retreat, foreign private equity investment methods are also more diverse. For example, the net value curve of Insman's product has a low correlation with most similar private equity.
The size of the Bridgewater China Fund tripled in one year
In 2019, there is also a foreign institution that must be said–Bridgewater Fund, the world's number one hedge fund that sings China in a high profile many times in 2019.
In 2017, Bridgewater established an offshore all-weather China fund in Cayman. According to the Pension and Investment Magazine (P & I), the fund invests in China's stock bonds and commodities in the global market, called Bridgewater All Weather China Fund, and uses Bridgewater's risk balancing strategy. The size of this fund has increased from US $ 161 million in September 2018 to US $ 667 million in September 2019, which has more than tripled in size.
Zheben, an investment consulting agency for foreign investment in the Chinese market, believes that bridge founder Dalio is the one who really understands the Chinese market. "Recently he has significantly increased the registered capital of WOFE."