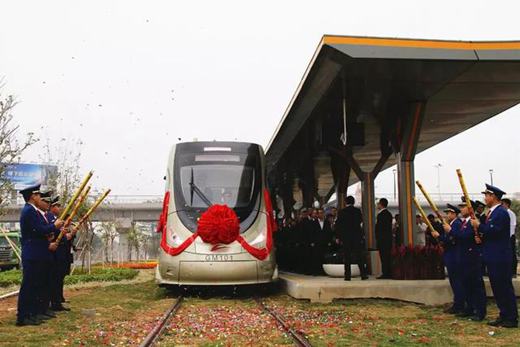 A hydrogen-powered tram developed by China's CRRC Sifang was launched recently in Gaoming District, Foshan City, Guangdong Province. Industry experts believe that this move marks that the world's first hydrogen energy tram has been officially put into commercial operation, and China's modern tram has entered the "hydrogen era" since then.
The hydrogen energy tram is a new energy rail vehicle using hydrogen as an energy source. Foshan Gaoming Modern Tram Demonstration Line is the first tramway project powered by hydrogen energy in China, and it is also the world's first commercially operated hydrogen tramway line.
According to technical director of CRRC Sifang, unlike conventional trains, hydrogen energy trams are equipped with hydrogen fuel cells as its power source. The principle is to drive electric trams through the chemical reaction of hydrogen and oxygen in fuel cells.
Hydrogen fuel has a very high energy density, so hydrogen energy trams have superb endurance. The tram is filled with hydrogen once and can continue to run for about 100 kilometers. Thanks to the long-distance endurance, the trams do not need to set up a "contact network" on the whole line, which can effectively alleviate the problems of conventional trams requiring a contact network and short mileage of ordinary energy-saving trams.
It is particularly worth mentioning that the principle of hydrogen fuel cell power generation is the direct conversion of chemical energy into electrical energy. The only by-product is water, which does not produce any pollutants, so it can truly achieve environmental protection.
In 2015, CRRC Sifang successfully developed the world's first hydrogen energy tram; and at the end of 2017, a tailor-made hydrogen energy tram for Gaoming went off the production line. In 2018, CRRC Sifang won the "Sir William Grove" award from the International Hydrogen Energy Society for the research and development of hydrogen energy trams, becoming the only rail transportation equipment company in the world to receive the International Hydrogen Energy Society Award.