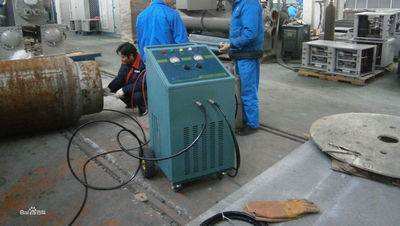 Refrigerant emissions could cause irreparable damage to the environment, but according to Chinese media account "Refrigeration Business News", statistics by July, 2019 show that the annual recovery volume of refrigerants in China was small and there were few qualified Chinese domestic companies specialized in refrigerant recovery in the country.
Refrigerants' damage to the environment includes the destruction of the atmospheric ozone layer by ODS substances, the strong greenhouse effect of HCFCs and HFCs refrigerants on the climate, even CH refrigerants are VOCs.
At the same time, the discharge of refrigerant is a waste of resources, which is equivalent to destroying the environment and wasting money. There is a huge safety hazard if the refrigerants are not recovered or incompletely recovered. And as many refrigerants are dangerous chemicals, if they were leaked, a safety accident might happen.
Refrigerant recovery reduces air pollutant emissions (ozone-depleting substances, non-CO2 greenhouse gases, VOCs), and improves economic efficiency through comprehensive utilization of regeneration treatment.
At present, China's refrigerant recovery work is still in its infancy. According to Japan's management level, the annual refrigerant recovery volume accounts for about 30% of its market volume. And if China reaches this level, according to the current market volume of 600,000 tons of refrigerants, China should be able to recover about 180,000 tons.
So, what's the recovered volume of China? At present, the annual recovery volume of refrigerants in the country is only around 600 ~ 800 tons, and it is indeed still in its infancy. The technical gap is small, so the problem is mainly due to management issues.
Why is the difference in refrigerant recovery between China and developed countries so large? The main reason is that the legal system is not perfect, the personal benefits from recovery are small, and the emissions are not managed. So, at present, only some self-disciplined companies and individuals take the initiative to recycle refrigerants, and some companies do it because of pressure from environmental protection departments, and most of them are not enthusiastic.
It is understood that there are not many enterprises engaged in refrigerant recovery in China. Article 19 of the "Regulations on the Management of Ozone Depleting Substances" of Order No. 573 of the State Council stipulates that: Units specializing in operating activities such as the recovery, reuse or destruction of ODS shall report to the competent environmental protection department of the people's government of the province, autonomous region, or municipality directly under the Central Government.
However, there are no more than 10 Chinese companies that are solely engaged in refrigerant recovery, 3 companies are registered for refrigerant recycling, and 7 to 8 companies registered for destroying refrigerants (generally hazardous waste disposal companies not open to other provinces or cities).
If you encounter an unqualified Chinese company for refrigerant recovery, the problem would be serious! On one hand, the process does not meet the requirements of safety and environmental protection; on the other hand, whether the so-called recycled refrigerants in the market is legal or not couldn't be controlled or counted.
In addition, different equipment and different types of refrigerants have different requirements for recycling. Different types of refrigerants require different pressure vessels for recovery and storage. The recovery machine can basically be used in general, but the flammable refrigerant recovery requires explosion-proof equipment.
Refrigerant recycling itself is relatively simple. The key is that stricter conditions are required for recycling or destruction. Especially for recycling, not only must it be filed with the corresponding environmental management department, but also it must have the environmental impact assessment of refrigerant recycling and the storage and recharging of dangerous goods related to refrigerants. And the operating qualifications and technical means of pressure vessels and pressure pipelines should also be available. Otherwise, the risks would be great.
At present, the dismantling volume of waste refrigerators and air conditioners in China continue to increase rapidly, but refrigerant-related management policies and processing technologies are lacked, and refrigerant management issues are becoming increasingly prominent. To get a share in this field, enterprises must first have legal qualifications.
In 2018, China's National Development and Reform Commission, the Ministry of Industry and Information Technology, the Ministry of Finance, the Ministry of Ecology and the Environment, the Ministry of Housing and Urban-Rural Development, the General Administration of Market Supervision, and the State Organs Affairs Administration issued a notice on "Action Plan for Green and Efficient Refrigeration".
The notice pointed out that in order to implement the requirements of China's "Government Work Report" in the year, China's State Council's "13th Five-Year Plan" Comprehensive Work Plan for Energy Conservation and Emission Reduction, and the French-Chinese "Joint Statement on Jointly Maintaining Multilateralism and Improving Global Governance" and other documents, green consumption and high-quality development should be pursued and promoted, and Chinese enterprises should implement "Action Plan for Green and Efficient Refrigeration" thus constituted carefully in accordance with actual conditions.