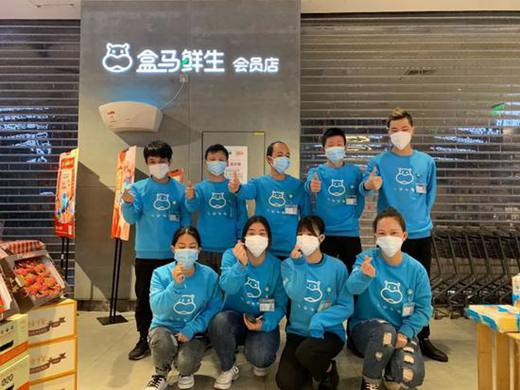 Under the continuous impact of coronavirus, there has been some imbalance in the employment of Chinese enterprises.
On the one hand, people overflow from enterprises such as catering and offline entertainment have due to suspension of operation; on the other hand, demand for epidemic prevention materials and daily necessities has increased significantly, resulting in shortage of manpower in industries such as home delivery and logistics for enterprises and commercial supermarkets.
To this end, many Chinese companies have launched "shared employee" mode. Hema, JD.com, and other companies facing labor shortages have temporarily hired surplus people from companies being shut down.
In order to help smoother personnel flow between enterprises, China's recruitment platform BOSS recently launched "Peach Blossom Action Taoyuan Channel Program" public welfare project, to build mutual assistance channels free of charge for companies in urgent need of employment in specific industries and companies with idle staff.
It is reported that the project has been on the line for three days, and has coordinated with a number of enterprises such as commercial supermarkets, logistics and catering, and has promoted a joint labor project for both sides, transmitting more than 1,000 people.
Tao Shuang, who is in charge of Operation Taohua, said: "Personnel dismantling has indeed solved the problem of imbalance in human resources. However, there are still a large number of companies with demand is relatively unfamiliar with specific implementation of this method, while BOSS can provide more efficient and professional services."
On February 1, chairman of Xibei Noodle Village, which owns 367 stores, took the lead in publicly expressing "concerns", saying that its 20,000 employees are out of work while the company continues to pay wages according to China's national regulations, even if the loan is not enough for March; then, Waipojia restaurant said, "We have to pay 2.5 million yuan each dawn, but epidemic prevention is still the first to ensure safety and basic life of employees." In addition, Laoxiangji restaurant said that because of the epidemic, it could have lost more than 20 million yuan in 6 days of Spring Festival.
Subsequently, on February 3, Hema, Meituan and other Chinese internet companies took the lead in announcing the absorption of other catering staff. At that time, Hema, an emerging fresh delivery company, said that it has reached agreements with 57 Xiang, Chayan Yuese, Shuxiaxia, Wangxiang Garden, Yunhai Cuisine, Xibei and other catering groups and obtained temporary support from their employees. And this measure has caused a huge echo in the industry.
Soon, Internet companies such as JD.com, SF, Suning, and Dingding also issued recruitment orders. On February 7, Suning Group, including Suning Logistics, Suning Sports, and Carrefour, also launched a "talent sharing plan", which plans to recruit 8,000 people; JD.com announced a recruitment notice with its Dada Group on February 9, that it plans to add over 35,000 regular workers and temporary employees, JD Logistics recruits more than 20,000 positions and Dada recruits more than 10,000 delivery staff; SF also announced on February 18 that it was recruiting for 30,000 open positions from the whole society, and temporarily unemployed people can apply for those jobs.
According to incomplete statistics, China's major internet companies are opening more than 100,000 positions.
But can "shared employees" become a trend of the future? Relevant person in charge of Hema Xiansheng told iFeng Finance that this "public borrowing" model to a certain extent meets the employment needs of enterprises in special periods, but it does not mean that it can become a "universal key" to solving problems in the restaurant industry.
At present, 'shared employees' is a contingency method in this special period of the enterprises. Whether it can become a fixed model in the future remains to be determined."