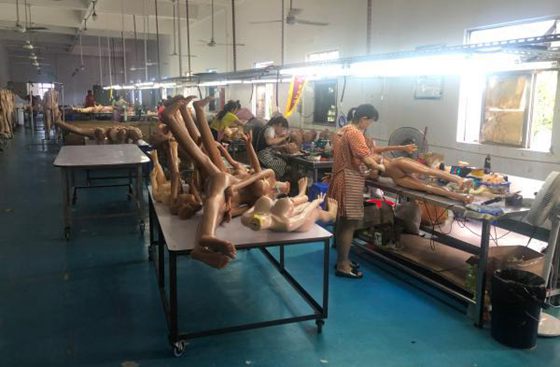 A reporter from The Paper went to an adult sex doll production factory in Shenzhen, Guangdong Province recently. The person in charge of the factory said that the overseas export volume of sex dolls is now getting higher and higher. The usual export volume is about 3000 per month, which has more than doubled this year. At the same time, with the rise of the new model of offline sex doll experience stores – or known as adult entertainment shops, the domestic market of China is gradually being opened.
Ninety percent of 4000 dolls were produced per month for export
Yan Sixue, the founder of adult product brand "YANNOVA" and general manager of Yiwu Yansheng E-commerce Co., Ltd., told the reporter that since the COVID-19 pandemic, the company's orders for sex dolls exported overseas have obviously started to increase, especially orders from Europe, Spain, Italy, Germany, etc.
Data from the AliExpress platform of Alibaba also confirms the above trend. The platform is China's largest cross-border retail e-commerce platform designed to build overseas exports for Chinese companies and has direct access to overseas individual buyers in more than 200 countries. According to statistics from AliExpress, the export volume of adult sex products has increased by nearly 50% year-on-year, and physical sex dolls have doubled year-on-year. Since March, the sales of sex dolls in Italy, where the pandemic is the worst, have increased by 5 times year-on-year.
In mid-July, The Paper reporter visited Yan Sixue's sex doll manufacturing factory in Shenzhen, Guangdong. Chen Qing, the head of the factory, said, "At present, our factory has a monthly output of 3000 to 4000 sex dolls, most of which are exported to overseas markets such as Europe, America and Japan. Last year, our export ratio was 90%. This year, as the Chinese market started to rise, exports accounted for around 80%." Chen Qing said.
Chen Qing said that since a few years ago, the overseas market demand for sex dolls has been increasing year by year. During the COVID-19 pandemic in 2020, the company's export volume has not decreased but increased by more than 100%. "Among them, orders from Germany have risen the most. The only impact of the pandemic on us is that the freight rate has increased, and many lines have been shut down and we are forced to go by sea.
High simulation, customizable, can walk in the future
"Many people's impressions of sex dolls may still remain at the stage of inflatable dolls. In fact, the materials have been updated many times." Yan Sixue introduced.
Eight years ago, TPE material with the scientific name of thermoplastic elastomer began to be used to make solid dolls, which is also commonly known as artificial rubber. In recent years, the latest material is silicone. Because of its high plasticity, the degree of simulation can be better. But the cost is also higher, so many companies currently only use silicone for doll head manufacturing.
Most of the sex dolls produced by Yan Sixue's factory are for export, so reporters can see yellow, white, and black dolls of different skin colors and various body shapes being manufactured in the factory. After pouring rubber into a mold equipped with an alloy skeleton, a doll measuring 1.65 meters high and weighing about 35 kg was born.
"In the beginning, we will let designers design some facial shapes based on the aesthetics of different countries, and then launch an online survey to ask the locals if they like it or not. After finalizing, we will open a mold for manufacturing. Now we provide more than 160 face shapes for users to choose." Chen Qing said, "In terms of body shape, we use real models. We completely replicate the body shape of a good-bodied female model, and the joints are exactly the same."
"Now the hair and eyebrows of our high-end sex dolls are all made of real human hair, and the eyebrows are implanted one by one. Instead of using a wig, plus a silicone head, the head simulation can be very good. We can even make the subcutaneous veins, which is very different from the inflatable doll in people's impression." Chen Qing said.
The high degree of simulation also brings the price increase. According to reports, the price of a basic doll made of all-rubber material is around 3,000 yuan, while the price of a high simulation doll with a silicone head and human hair is as high as 8,000 yuan. With the addition of functions such as heating and voice, the highest price can reach 20,000 yuan.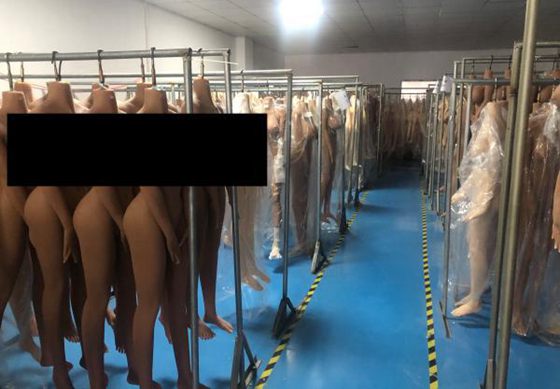 Chen Qing also introduced that the factory can even undertake private customized doll business. "We have not done this kind of business for China's domestic users, but we have done it overseas. A widowed old man provides a few photos of his wife, and we can make a 1:1 doll that restores his wife's appearance. The function of a physical doll is actually not addressing sexual needs, companionship is actually a very important aspect."
According to the company's brand leader Fang Jie, according to survey feedback, the current interaction of sex dolls with voice functions is too simple and not smart enough, which is a shortcoming pointed out by many current users. In the next step, the company will strengthen R&D and cooperation to enhance the voice function of sex dolls, and AI functions may be implanted in the future. At the same time, allowing the dolls to have a walking function is the company's next development direction.
Sex doll brothels are in the ascendant in China
Fang Jie said that according to their user survey, Chinese users who buy the company's sex doll products are mainly middle- and high-income men aged 30 to 35.
"The more high-end sex dolls still have a certain threshold in terms of price. We have a customer who is a business person who travels all year round. He bought a high-end model and took it with him every time he traveled on consignment. It cost him more than 6,000 yuan for shipping every year. Seafarers are also an important customer group, and they are required to sail at sea all year round." Fang Jie said.
Recently, offline experience stores for adult dolls began to appear in Shenzhen and Dongguan. This is a relatively novel service model. The actual rubber sex dolls with the original price of thousands or even tens of thousands can be "experienced" for an hour here for only 200 yuan.
Chen Qing introduced that China's first offline experience store for sex dolls appeared in Shenzhen, and some of them used their dolls. "In the domestic market, we used to sell mainly on online platforms such as Alibaba. At the end of last year, the offline form of experience stores began to be born. Many people may not understand the sex doll experiencing stores emerging in China. In fact, such stores provide an opportunity for offline contacts. If you are satisfied with the doll, you can buy one on the spot and take it home."
Now, the factory receives 7 or 8 customers from other places every day to talk about the agency project of the sex doll brothel. "At present, Shenzhen, Shanghai, Suzhou, Xi'an, Kunming and other places have our offline sex doll experiencing stores, and our next goal is to have one store per province." Fang Jie said.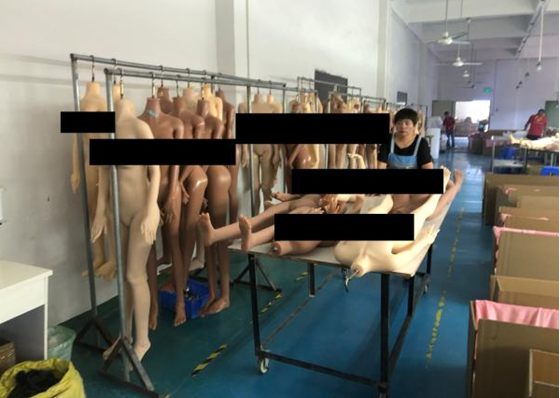 "At present, the ratio of men to women in China is seriously imbalanced, and more than 30 million males are bachelors. I think the potential market demand for sex dolls is still very large, which can be regarded as 'rigid needed'." Chen Qing said.
The most worrying thing about the sex doll brothels is undoubted whether the hygiene problem can be guaranteed. Fang Jie said that at present, the company's experience stores are no problem in terms of supervision. First of all, the product quality has a complete national related inspection report, and the business license has also consulted the relevant regulatory authorities to complete all the necessary procedures and legal operations. As for the most concerned hygiene issues, the products used in the experience store have their own unique "mobile channel" design, which can achieve "one customer, one change" and avoid cross-infection from the root cause.
"At the same time, we also stipulate that guests to the sex doll brothels must register their identity when entering the store. This is to prevent minors from entering, and second, to trace back afterward in case of problems." Fang Jie said.