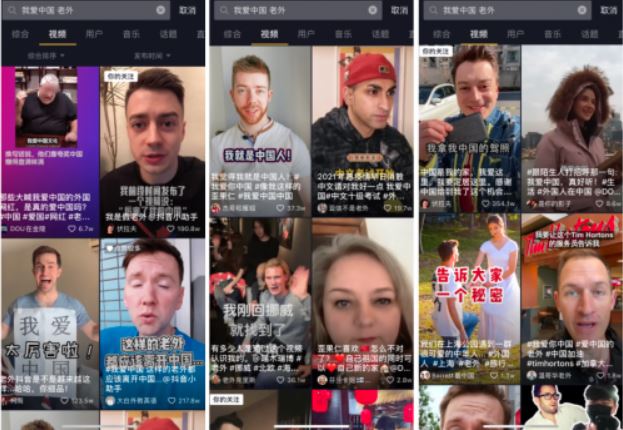 Nowadays, the weblebrity business is booming in China, and it is no longer limited to Chinese posters. While Chinese Internet celebrities such as Li Ziqi and Office Xiaoye went famous overseas, those foreign Internet celebrities also came across the oceans to search for gold in China.
On Douyin – the Chinese version of TikTok, there is such a group of foreign friends who have gained a lot of attention and cash by boasting China. For example, Russian internet celebrity Volav (伏拉夫), who always talks about "I love China", has 10.6 million followers on Douyin, and his advertising revenue alone was over 200,000 yuan (about USD30,880 at the current exchange rate) in January, according to TechWeb.
"Complimenting China" is considered to be the fastest way for foreign Internet celebrities to become popular in China. The identity as a foreigner, plus a person who loves China, is enough to shoot every day around the themes of "China is great", "I love China", and "I want to be a Chinese".
However, with the fall of foreign internet celebrities such as Swearing Egg and Toxic Corner SHOW, Chinese netizens have gradually seen the business logic behind foreigners' boasting of China. It's just that when more and more foreign Internet celebrities enter the Chinese market, the law of "scarce is expensive" no longer works. How long can this model be popular?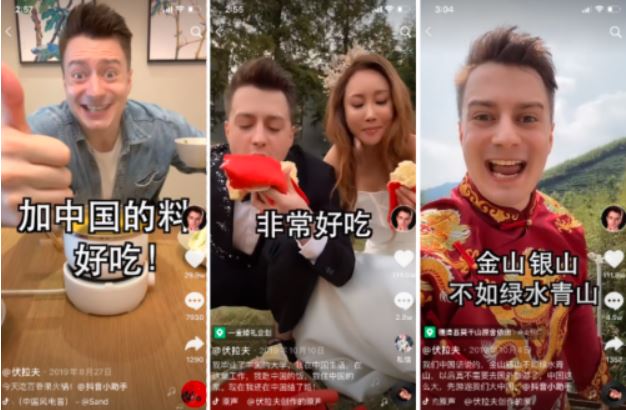 Why is it profitable to "boast" about China?
Volav, who has already accumulated 10.6 million followers on Douyin, is the top foreign netizen dedicated to praising China. He has created a unique way of creating short videos: he always presents a state of exuberance in front of the camera, somewhat similar to the emotional salesmen in TV shopping programs, which some netizens call "hyperthyroidism" performance.
When opening his Douyin homepage, you will find all the videos are praising China, covering various hot pot tastings, convenient mobile payment, excellent Huawei mobile phones, and the expected 5G.
For example, he would shout in the video, "Passion fruit hot pot is not good, add Chinese ingredients, delicious!" When the wedding was held, he had to eat hot pot, and when the hot pot cake fell on the floor, he squatted on the floor with his wife and held it directly in his hand to eat it. On the basketball court, he praised that China's sneakers are more and more impressive. When he went to Mount Moganshan, he shouted the famous Xi slogan of "Golden mountains and silver mountains are not as good as green mountains".
A foreigner, fluent in Mandarin, praising China – this wave of actions by Volav is quite popular among many Chinese fans. Many people praised and cheered him in the comment section, and one Chinese fan left a message saying, "As long as you like China, we are a family", which has 91,000 likes as of this writing.
From Jan. 6 to 20 this year, Volav took over three ads for Netease's "Oracle" mobile game, Pinduoduo, and Tmall, and according to the online report, he was quoted around 80,000 yuan for one ad, so Volav would get about 240,000 yuan in advertising revenue alone in January.
So, the question arises, why can foreigners make money by boasting about China?
Some people think that behind this magical industry chain is a manifestation of the national people's continued admiration for foreigners and lack of national self-confidence. But in fact, this conclusion is a bit too simple and crude. Ultimately, the growth path of foreign friends on Douyin is also constantly adjusted according to the preferences of Chinese users and the tonality of the platform.
First of all, from the perspective of the Douyin platform, a large proportion of the Chinese people watch Douyin videos just to kill time, they do not need to think too much, as long as the videos are interesting and eye-catching, the clicks are generally not bad. As to whether the foreigners really love China, the watchers don't bother to think – happiness is the most important for them.
In an interview with famous Chinese newspaper Nanfang Weekend, Volav said that he really loves China, "It's right to be yourself, but in many ways, you have to think from the platform's point of view, what the platform likes and dislikes, this is also something to consider."
TechWeb journalist browsed Volav's Douyin Videos found that the videos he initially created were normal, even somewhat youthful. Since the popular hot pot video was released on May 29, 2019, the whole person was out of control on the road of "hyperthyroidism" performances until today.
Volav values traffic, and traffic has rewarded him, and he has found his current niche in the constant grind. Now almost every video of Volav's has more than 100,000 likes. Nanfang Weekend calls Volav a person who is trapped in the "way" of making short videos for ShakeYin, which is also very accurate.
From the users' point of view, the act of praise itself is very pleasing, and people are willing to buy it. It's beautiful to praise yourself, not to mention praising your country. This is just like the once-popular "Kua Kua" (which means "phrasing each other") group, as long as you are willing to spend money, praises will always surround you.
Scripts behind "praising" China
Volaf's successful routine has attracted many foreigners to try it. Nowadays, foreign imitators of Volav can be found everywhere on various short video social media platforms. Some of them have gone to the Chinese short video market on their own, while others have signed up directly with Chinese MCN companies.
Volav is not signed to an MCN company, but he does have a Chinese team behind him to help him with filming, business matching and other activities, and his personal studio is based in Hangzhou. Video creators like Volav, who are fluent in Chinese and know more about Chinese culture, are more likely to open up the market. For those foreign netizens who do not understand Chinese culture, it is more reliable to sign up with MCN companies.
An industry insider told the reporter that Chinese MCN companies will look for foreign weblebrities with a certain amount of followers on YouTube and Instagram to sign up, and equip the foreign weblebrities with Chinese brokers to assign them to parallel ads with the same amount of followers, from which the MCN companies earn the difference.
Mature foreign weblebrities seem to be easier to introduce to China, after all, they would bring their own traffic. In terms of localized operations, most of their video content is about China, and some MCN companies will directly provide scripts for these foreign weblebrities to interpret and post.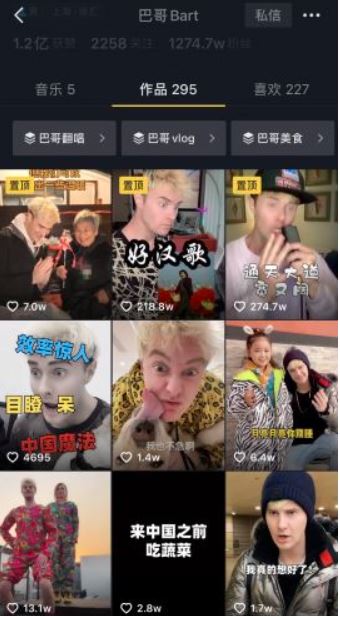 After signing up with a Chinese agency, the American boy @巴哥Bart quickly became popular by covering Chinese songs. He once said in a media interview that the covers are made by Google by translating Chinese into English and then doing rhymes. For example, he only knows that the word "red dust" appears several times in the song "Walk in Style", but he doesn't understand what it means. The songs are provided by the agency.
Before that, Bart was a famous video blogger on YouTube, especially good at making spoof and parody videos, and had parodied pop stars such as Moldy Mould and Justin Bieber, with the most popular videos having over 10 million views. Later, as YouTube launched an all-ages video project, it led to a decrease in advertising revenue for many YouTubers like Bart. It was just then that a Chinese agency threw in the towel, and Bart turned to China to strike gold.
After accumulating a certain number of fans in China, Bart started learning Chinese and can now sing in Chinese, and moved from Los Angeles to Shanghai two years ago, shifting his career focus completely to China. Currently, Bart has more than 12.74 million Douyin followers, collecting 120 million likes, and 1.22 million followers on Weibo.
To please Chinese manufacturers, you must first please Chinese people. Both foreign weblebrities and agencies are well versed in this. Douyin's slogan is "record good lives", and the platform advocates positive and energetic content, which is also the premise that the weblebrities must abide by.
How long can these foreign influencers stay popular?
The pop-ups on Douyin are updated and iterated very quickly, just like the super-hot songs that come out every year, which are different every year. Similar themes that boast about China are getting aesthetic fatigue, and the constant influx of foreign weblebrities has accelerated the saturation of this market.
In Zhihu, there are a lot of answerers posting that foreign weblebrities who claim to love China actually just love Chinese people's money. On Bilibili, some content curators specializing in making videos also criticize such utilitarian behaviors. Volav was even made into spoof videos, and before that, he was one of the top 100 content curators of Bilibili in 2020 elected by netizens, but finally did not make the cut.
For foreign weblebrities, "loving China" is just an admission ticket, to go on for a long time there must be quality content output continuously.
During the pandemic, Japanese director Ryo Takeuchi filmed many documentaries in Nanjing, Wuhan and other places in China, which faithfully presented the situation of Chinese society in fighting the epidemic and resuming production, which aroused the resonance and praise of Chinese netizens. The American brother Jerry Guo (郭杰瑞) has been concerned about the differences in life and culture between China and the United States for a long time, and he is rarely praised by the whole internet of China.
As one Chinese netizen commented, "If you want to become popular in China, you must please the Chinese audience. This is not wrong, but excessively dwarfing self will only fall into the dust. If you want to operate for a long time, you need some depth. Even if there is no depth, you should think a little bit."
It is the time for foreign weblebrities who praise China to transform, and only after the market has been shuffled will video creators who truly output good content be left behind.
Source: TechWeb