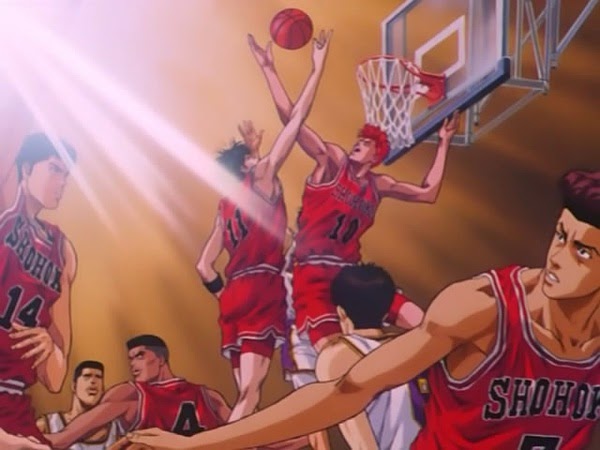 Since tens of millions RMB was invested into IPs during Chinajoy (Jul.31-Aug.3), IP has been replacing money as the hottest topic in Chinese mobile gaming cycle. The recent success of "IP games" like Tian Long Ba Bu 3D (based on a Kungfu novel of Jin Yong) and Shen Diao Xia Lv (also based on Jin Yong's novel) greatly encouraged this topic.
New mobile game Slam Dunk, published by Baidu Mobile Game on Nov. 27th, also has a silver spoon – cartoon Slam Dunk, made by a Japanese company – Toei Animation Co., Ltd. and was extremely popular among Chinese teenagers around 2000.
To emphasize this powerful IP, the developers (including DeNA China, Baidu Mobile Game and Toei, according to official statement) add "Genuine License" behind the game name at App Store and Android stores, play the theme music all along the game and use a lot of original scenes from the cartoon.
It's weird that as a Japanese game company, DeNA didn't release a game of Slam Dunk in Japan first, where the cartoon of Slam Dunk was equally popular. In the end of 2012, there were Chinese reports about such a Japanese game was to be on Mobage (a social gaming platform owned by DeNA), such as this one, but no more was heard of it, and Slam Dunk cannot be found in Mobage's official website at present.
It's very possible that in the much more mature Japanese game market, IP is not that important, and "Slam Dunk" was far from a warrant for success of a mobile game.
Even in China, the release of this new game has disappointed many players, who cannot understand why it is a card game of automated fights, without any action control.
To take the advantage of current 1-yuan promotion launched by App Store in China, Baidu also priced game Slam Dunk 1 yuan and attracted numerous fans of cartoon Slam Dunk, who leave comments saying that they pay this game for reminiscence.
Now Slam Dunk ranks 1st in the "Paid" list of App Store. What about the future, who knows?