Apple's iPad has long been a leader in the tablet industry because of its systems and quality. According to the latest data from IDC, the iPad accounted for 32.6 percent of the tablet market last year, making it the world's top seller.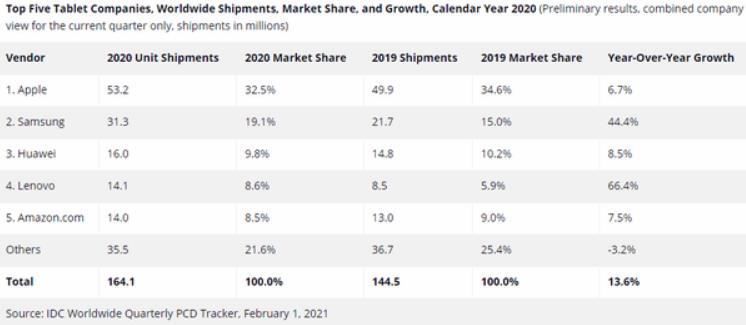 And according to projections given by relevant agencies, the tablet market will continue to expand in 2021, with iPad sales expected to continue to grow.
It is worth mentioning that behind Apple's iPad, a company that makes the device as its main business is also rising fast, it is BYD.
In the minds of most consumers, BYD has always been known as an automaker, but in fact, BYD has made great achievements in other areas besides making cars. BYD is the world's third-largest battery maker and the second-largest contract manufacturer in the world, after Foxconn.
BYD has been in Apple's supply chain for a while — it only received an order for the iPad in 2019 — but it has since been producing more iPads, which has led to rapid growth in revenue. Judging from the results, the in-depth cooperation between Apple and BYD actually benefits both parties.
Apple has always disliked putting eggs in a basket. Previously, Taiwanese companies had been responsible for the foundry work of Apple products for a long time. Under the influence of rigid management systems, Taiwanese companies' foundry capabilities have gradually declined. In fact, BYD's entry into the market as a new rival can not only activate the competitiveness of Taiwanese manufacturers, but also restrain Foxconn.
For BYD, the iPad order growth can effectively boost the company's net profit. Executives expect Apple to become BYD's biggest customer this year, contributing more than 50% of its revenue, helped by increased orders for iPads. In fact, getting into Apple's supply chain is the dream of most contract manufacturers.
And BYD really needs Apple's order. According to the relevant data released by the government, although BYD still has a number of quality customers, such as Huawei and Xiaomi, in addition to Apple, these enterprises cannot provide stable orders like Apple.
In 2019, BYD's gross profit on sales fell sharply because of the sluggish mobile phone market. After accessing Apple's iPad orders, BYD's gross profit margin on sales has soared. But the increase in Apple orders has also made BYD as dependent on Apple as Foxconn. This is not a good thing for BYD.
It is hoped that BYD will eventually overtake Foxconn in the contract manufacturing market with the help of Apple.
Foxconn has faced recruitment difficulties in China due to mass incidents and rising labor costs. Not only the revenue suffered a sharp decline, but also the unstable cooperation with Apple has become its biggest crisis.
In addition, when Foxconn set up its new factory in Southeast Asia, BYD gradually grabbed Foxconn's share in China. Nowadays, even if Foxconn wants to re-enter the Chinese market, it still needs to spend a lot of energy, and whether it can be accepted by the Chinese is a question.
With the sharp rise in the demand for tablet computers during the epidemic, BYD Electronics' order demand keeps increasing. After obtaining more transfer orders from Compal, the iPad produced by BYD accounts for at least 10-20% of the shipment. In the future, BYD Electronics is expected to become the main supplier of Apple's iPad, and the revenue scale will be several times the growth space.
In addition to iPad business, BYD Electronics also entered into Apple Watch sapphire & ceramic back case business. BYD is the only company in the world that can simultaneously produce a full range of mobile phone structural parts including plastic, glass, metal and ceramic and complete machine design and manufacturing solutions, this is an advantage that Foxconn does not have. Through the differentiation competition with Foxconn, BYD has succeeded in occupying a position in Apple's supply chain.
In addition, BYD Electronics' rapid growth is not only based on mobile phones, but also on three areas of consumer electronics, new smart products and automotive smart systems.
First of all, in the new intelligent business, BYD Electronics takes an active market expansion strategy, products cover AI, IoT, smart home, robots, unmanned aerial vehicles, electronic cigarettes, smart speakers, intelligent commercial equipment and industrial control, etc., many downstream customers.
In the field of automotive electronics, relying on the parent company BYD Group, BYD Electronics actively develops in-vehicle ancillary products and services. The product business covers multimedia car machines, intelligent network connection systems, communication modules, sensor modules, etc., the company launched the DiLink intelligent network connection system, it is the industry's first product to fully open all sensors and controllers of automobiles.
In the context of the global automotive industry's general shortage of cores, BYD has repeatedly stated that it " is not affected", precisely because BYD has completed chip self-sufficiency in the automotive field.
Finally, during the COVID epidemic, BYD Electronics began cross-border production of masks, and its production capacity jumped to the first in the world. This is also one of the company's layout in the health care business, the company quickly obtained various types of medical certification, which will help the subsequent layout of its medical electronics business.
Source: Tencent News, etc.