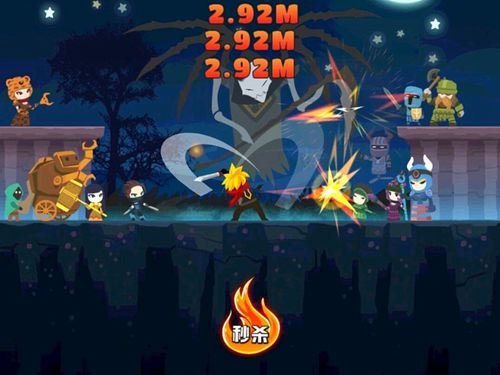 As the Chinese agent of Tap Titans, Jamo Games is besieged on all sides. A dozen of Chinese copycats continue to turn up, and the "authorized edition" is under wide criticism.
Jamo Games' CEO Zhang Lijing said they found "Tap Titans" the second day after its release in App Store on Dec 17th 2014, and began to contact its host – Game Hive on Dec 19th. In the beginning of January, Jamo sent its partner in America to go to Game Hive's location in Canada.
However, they are still slower than the plagiarists, who began to release their games on February 2nd, two days before Jamo reached an agreement with Game Hive.
At present, Jamo Games' authorized Chinese edition is under review of App Store, while several copycats are still showing up there. They were removed before, but after being renamed, they passed the approval again. Zhang Lijing told CMGM that his principal complained that such situation would never happen in any other countries except China.
Zhang Lijing himself was also irritated. He issued a special statement which mentioned his partner's great efforts in obtaining the agency of "Tap Titans": "Being locked out amid storm of Canada, our partner lived on mineral water and bread, stomping his feet against the chill, and finally gained the agency by love and insistence".
"Tap Titans" was released in Chinese Android Stores in February, but many gamers attacked Jamo Games for forced termination during gaming, popping out of charging buttons, and "seckill" function requiring payment. But fortunately, Jamo Games' old partner China Mobile seems to save the game.
According to China Mobile's data report released yesterday, "Tap Titanss" enjoyed leading ARPU, per capita startup times and multiple startup rate in China Mobile's Migu Game store in March, roughly double the average numbers of the store, and is high on the list of grossing.
As for App Store, the original English version of "Tap Titan" is also released in Chinese zone, and is performing well, with more than 30,000 five-star ratings, much more popular than the Chinese copycats. Zhang Lijing told CMGM that the English version will be off the shelf of Chinese zone once his Chinese version is published in App Store.